Joost Dijkema - Time Thief LP (incl. download code)
€

15.00
On sale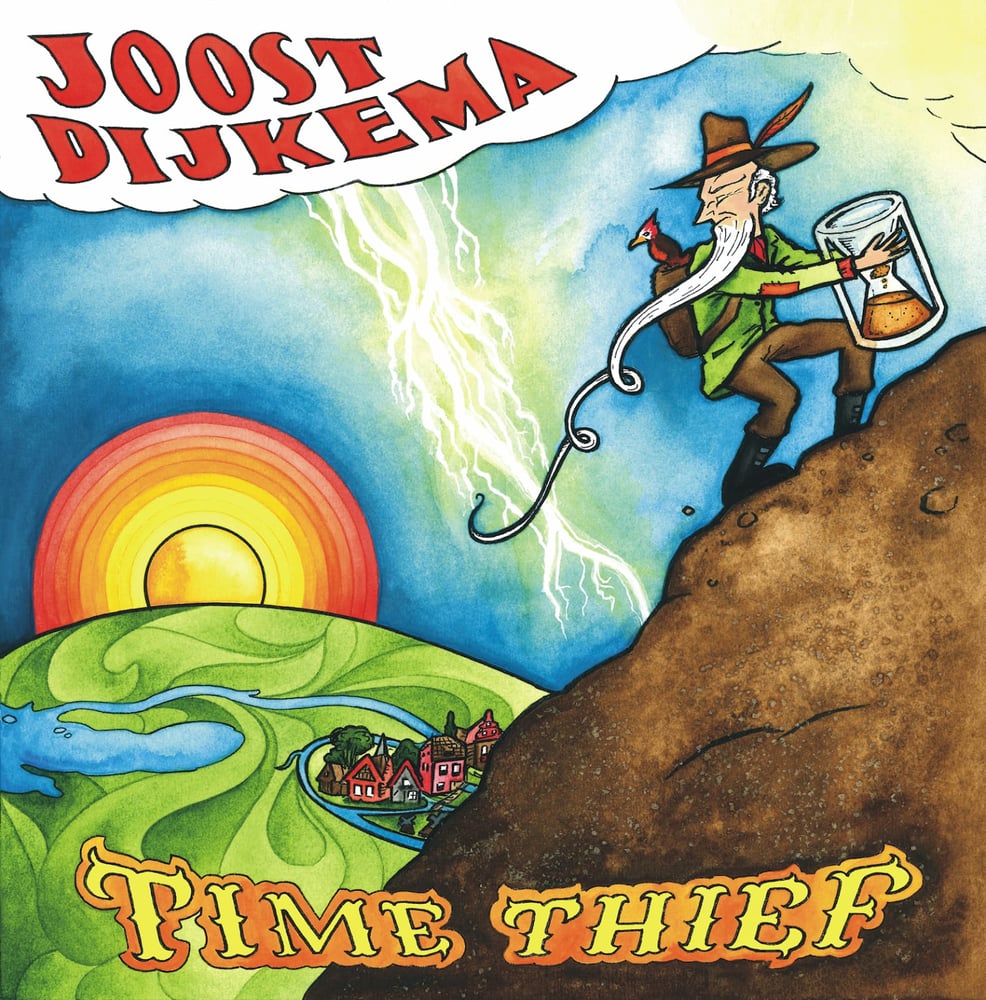 Joost Dijkema – Time Thief (LP/CD/digital, Twin Dimension Records, 2019)
After the personal redemption and artistic triumph that was Joost Dijkema´s debut album 'Sacred Revelations' (2016) he returns with his second solo album 'Time Thief'. Quite the colourful collection of songs, the Dutchman takes you on a slightly different voyage this time around. Still an album close to his heart, Dijkema explores the concept of time in relation to (sudden) loss, failure, anxiety, corrupted memories, love, strength, and the hope and insecurities relating to the near future through meandering and intense guitar explorations, hard hitting ballads, mutated yet groovy bluegrass, and lingering folk-rock. The dense instrumental opening salvo, "We Came Across pt. III" and "Plastic Seawater", are undeniable and prepare you for the tour de force of the lengthy title song. The album closes with the atmospheric "Galangal Tea with John," a beautiful calm instrumental in which Joost is accompanied by lap steel guitar wizard John Hekert, where Dijkema plays in an effectively restrained manner. 'Eite's Last Journey' is another peaceful guitar instrumental, and an ode to his uncle who suddenly passed away after an unfortunate bicycle accident. The Finnish Heta Salkolahti is on board again to provide the album with graceful string arrangements and backing vocals.
Joost might have an old soul for his tender age, but he's currently pushing the boundaries of rootsy fingerstyle guitar with his own singular, super-intense and inspiriting guitar playing. This is grassroots guitar music for the past, present and future.
'Time Thief' is directly available at the source on CD/LP via twindimensionrecords.bigcartel.com and www.joostdijkema.com.
European and worldwide (except USA) distribution by Clear-Spot. USA distribution by Lion Productions. For digital purchase please go to joostdijkema.bandcamp.com.
Cover, backcover and inner artwork by Steven Krakow, Sara Gossett and Hands of Hydra. Other inner artwork ("galaxy") by Erik Stokker.
Standard shipping rates. For registered shipping please contact beforehand. Thanks.